OMBFP #4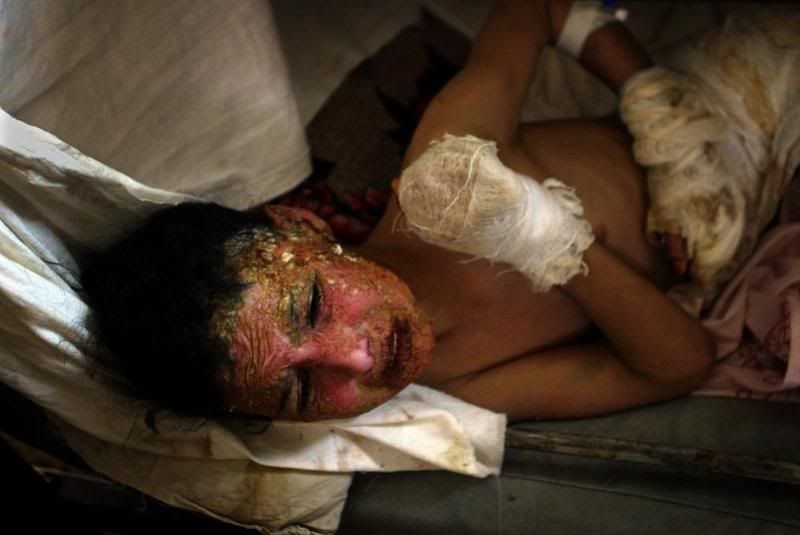 photo borrowed from www.fotos.geschichtsthemen.de
What does this photo say to you about the war?


this photograph says to me, "

you are responsible for this

-

this child's fear and pain

.

the knowledge that this young life will never ever be the same again

.

if he survived

."

it also says that this war is nothing short of criminal - through and through. my government did this, not to spread democracy or save the people from a horrible dictatorship - but to further their own geo-political agendas. and money. we mustn't forget the money.

then, after it hits me with all of this, i imagine that photograph being of bebe, and i hold him very close to me, tell him i love him more than anything and i will do everything i can to make sure that he never knows what that child has seen and lived through. i tell him how important it is to respect others, no matter where they were born in the world. we are all connected. i tell him we should never hurt others purposely, that we always use our gentle hands, we should always use our words to talk through our differences. i tell him that we should stand up for what we believe in and speak for those who aren't heard - and that it is not only ok to question those in power and demand answers and action, it is necessary to do so as a citizen of the earth.

then i look at the photo again. i try to not let him see me cry.

Do you think this photo could change others' minds about the war?

if it didn't, i would seriously question said person's common, basic level of respect for life and their sense of humanity. if anyone can look at the photograph and not realize that this is what war is... and continue to support and embrace such an unnecessary act of sheer ugliness... i just can't get my brain around that.
Labels: one million blogs for peace